Heya
Previous week I have attended Akademy 2031 conference. This year they joined forces with Qt Contributors' Summit 2013, that's why I am so lucky to attend even two global events the same time. In this report I would like to say about how it was. Seems like these keywords will fit theme of the whole report: kde, community, I, love, you.
Let's start then. Day 1. It was kinda greeting party with some free wine and awesome music, which attendee and organisators were playing themselves. Greet music and paid Coke for me were great! :D I also got my badge (mum got her one next day).
I also had a conversation mostly with Kevin Krammer (thanks, Kevin!)
Day 2. Sessions started. It was great, a lot of new knowledge, etc. I listened everything and got a lot of important experience. Sessions are great, only one remark is I would like to have a bit more technical talks.
After that we had a party at the night, that was unfortuntely, great also. We had nice music of two terrific spanish groups and I had some new contacts. Here is a photo of our conversation group during the party: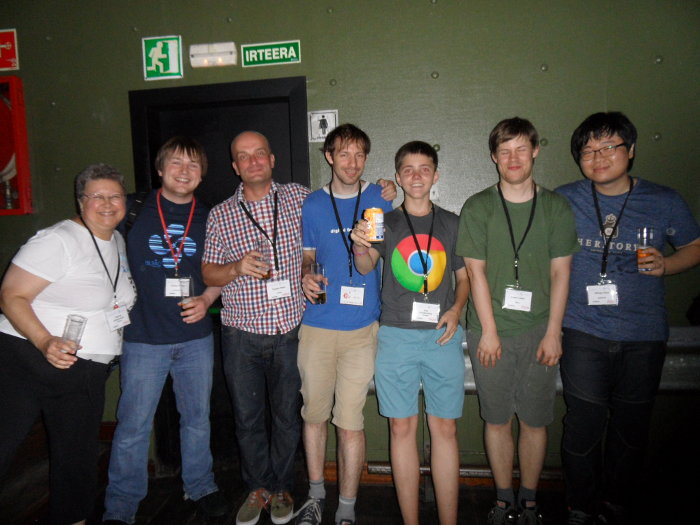 Day N
My memory is so bad, I can't remember everything in the right order, that's why I am going to mention only the most significant events, okay.
There are no sessions about KDE. Qt Contributors' Summit startes. Actually, it happend that the most important Qt CS talks were going the same time the most interesting BoF's were running, that's why I missed a lot of BoF's (sorry KDE). Only one excuse I can list - Qt support is extremely critical for me now, it was too important.
I had some new contacts during QtCS also:
Thanks to BlackBerry, they gave us a new BlackBerry Z10 as a gift!
Also, I had some time for relax and just hanging out there, in Bilbao. Some photos about that:
The most philosophical one (:D)
At the end of the day before the last one we had an amazing dinner with some alcohol drinks (sure I had no alcohol). Anyway, the dinner was great, great and great again. A photo from our conversation there:
Tadam. Looks like it's the end of my story at Akademy 2013. The only one thing: Thank you, KDE. You organised one of the most exciting experiences in my life. Hope to meet you guys again